Fabio-coiffed John Elway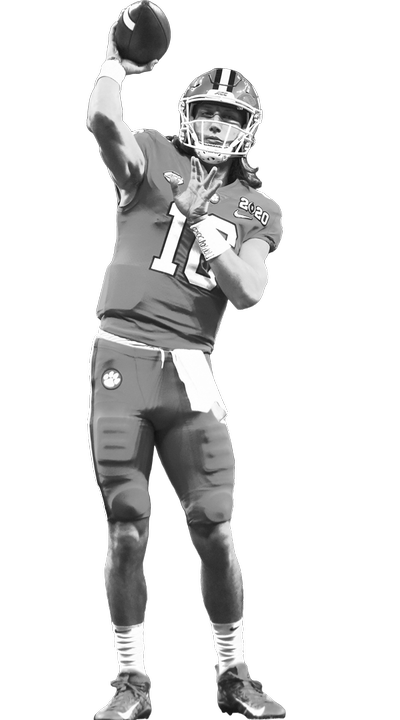 2020 STATS
Based on 10 games played
Touchdowns

Interceptions

Yards

Yards Per Attempt

Passer Rating
Video: Trevor Lawrence Scouting Report
5:04
Is Lawrence "generational?"
Smooth, athletic signal-caller who throws with accuracy and plays with a polished, natural feel for the position.
Pinpoint Accuracy

Smooth Footwork

Refined Technique

Elite Athleticism
SCOUTING REPORT
Lawrence is one of the most hyped and highly anticipated draft prospects of the last decade. He was widely anointed as the future top pick back in 2018 after leading Clemson to the national championship as a true freshman―an unbelievable season (he threw 30 touchdowns and four picks) that he capped with a sterling performance in the team's 44-16 title-game win over Alabama. The Tigers' star fell back to earth ever so slightly in 2019 (he finished with 36 touchdowns and eight interceptions), particularly during the College Football Playoff, in which he posted subpar passing lines in matchups against Ohio State and LSU (the latter a loss in the national championship game that snapped Clemson's 29-game winning streak). But Lawrence bounced back and then some in 2020, throwing 24 touchdowns and five picks in 10 games while setting career marks in both yards per attempt (9.4) and passer efficiency rating (169.2). He finished his Clemson career off with 400 yards and two touchdowns in a loss to Ohio State.
Lawrence is tall with a long-limbed, sinewy frame. He has a savvy feel for the position and always appears to be in command. He reads the whole field and has shown a knack for picking apart opponent blitz schemes. Lawrence has a tight, whip-like release and throws with good touch; he varies his velocity, ripping a pass into tight quarters on one play and feathering one downfield on the next. He's always balanced when he drops back to pass, working his feet and torso in concert to make off-platform or cross-body throws. And while he plays with a loose, relaxed demeanor, he's decisive and sudden in his movements, showing the burst to knife through gaps in the offensive line. The former Clemson standout is a gazelle as a runner, capable of boosting his team's ground game. (He rushed 16 times for 107 yards and a touchdown against the Buckeyes in 2019, and carried the ball 14 times for 90 yards and a touchdown against Notre Dame this season, for example.) Despite his slim frame, he's tough as hell. Lawrence is fearless on the field, whether he's standing in the pocket or carrying the rock.
There are a few areas in which Lawrence will need to continue to improve. His ball placement on throws to the outside can be erratic―there were times he hit receivers on the inside shoulder when he should've led them to the outside, and he leaves deep passes a bit short, or puts too much air under them, on occasion. Lawrence's receivers did plenty to help him out when his accuracy was off, but his margin for error will shrink at the next level.
WHY HE COULD RISE
Lawrence is a near lock to go no. 1. He has the tools to emerge as a franchise quarterback early in his career.
WHY HE COULD FALL
He won't fall, but Lawrence has sporadic accuracy issues and a relatively thin frame. Teams will have to account for how much of a boost he got from surrounding talent at Clemson.
Read the full scouting report.